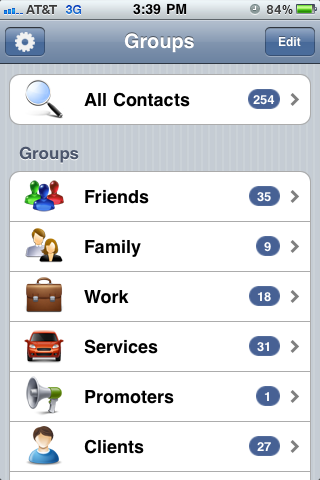 Contact management made easy.
The fastest, simplest app to organize your big list of contacts.
But don't take our word for it. See for yourself - it's free!

3,010,133 Users ~ 68,656,863 Times Used
Roll over the points below for more details
Very nice ★★★★★
Works well and is free!
Mar 15, 2011
Does exactly what I got it for ★★★★★
Very easy to use
Mar 15, 2011
As advertised ★★★★★
This app does exactly what I want !! Thank you.
Mar 15, 2011
Great ★★★★★
Should've been part of apples contact app.
Mar 13, 2011
Love it. ★★★★★
Organizes neighbors, classmates, etc. into their own list so I don't have to pick them one by one anymore!
Mar 14, 2011
LOVE IT ★★★★★
I switched phones from a Razor to a iPhone n I couldn't hav groups....till now. THANKS :-)
Mar 14, 2011
Excellent App ★★★★★
Over 2 months and no problem so far. This Apps is easy to operate and a time saver
Mar 14, 2011
great! ★★★★★
awesome feature to have, works flawlessly.
Mar 14, 2011
Great!! ★★★★★
I love this app. I came in handy to organize who is who in my contact book!!
Mar 14, 2011
Great App ★★★★★
Pls add backup/restore feature
Mar 13, 2011
Great for organizing mass text groups!... ★★★★★
Exactly what I wanted for organizing groups to send invites out for sports, game nights, parties, study groups, etc.! So easy to create and edit groups, and once you select your recipients, you can text them all with one simple click. Great app!
Mar 10, 2011
self employed ★★★★★
I have had this app for about a month. I am a critical user of apps. They have to be just right. I am a very busy person so my app has to count. I have upgraded because this one works with ease and efficiency. Good job!
Mar 10, 2011
Press:
"This is the most useful, intuitive and just plain simple application I've ever used for managing my contacts. And best of all??? It's FREE!!" - Examiner.com
"Takes Contact Management A Step Further" - AppAdvice.com
"Find out what you're missing." - Best Apps For iPhone