Hi, this is Greg, one of the founders of Qbix. I wanted to write a post to you in first person.
Our company has been busy building apps to empower people and unite communities. The original goal was to build a social networking platform to offer an open-source alternative to Facebook and other centralized sites, letting people host their own networks. In this video (sorry about the sound) you can see my overall vision about decentralization, not just of software but of cellphone signals, power generation (solar panels), etc.
I believe that, over the next several decades, automation will lower demand for human labor. The hardest hit will be low-wage workers around the world, but when 1 person can do the job of 10, wages are bound to go down in that sector. I believe this has already been happening since the 70s (Piketty, et al) and wages going to be an increasingly ineffective way to bring enough money to the people, so our communities will need to institute an Unconditional Basic Income. The money for this income will come from the growing amount of profits Corporations will make from automating their operations. I've written about it extensively, in the larger context of the corporate world. I've written responses to libertarians and altruists. Those who wonder how we can afford UBI can look at single-payer systems in countries around the world, or right here at home. In those systems, people wind up paying less per capita for basic levels of service, because buyers don't compete, only sellers do. A basic income would reduce inequality, remove the need for minimum wage laws, and provide better opportunities for everyone. Everyone from Milton Friedman to Martin Luther King advocated for it, but so far, it hasn't been implemented.
What we've already done
So far, we have built a bunch of apps that got a lot of traction around the world. Now we are working to let communities host their own social networks, and let people use apps on their devices to authenticate with various communities (protocol), manage their identities across communities, and use social apps hosted by these communities. They can move their money between communities, spend it within a community (the businesses cash out through the community bank or crypto-network, etc.) and apply to receive UBI from various communities.
I'm currently in the process of building a team to execute on this vision. We're also documenting our roadmap, writing a white paper, and speaking with an investment bank to do an ICO in addition to the equity funding that we've been doing up to this point. Among the people who have been advising us are Ryan Fugger (original creator of Ripple), the lead developer of solid, the creator of Ruby on Rails, the founder of PlanCast, and Warren Mosler (because MMT talks about issuing currency).
Basically, we started building social networks to decentralize the power of Facebook, etc. and we are now looking to actually build the first implementation of UBI as an app within a community currency.
Where this is all going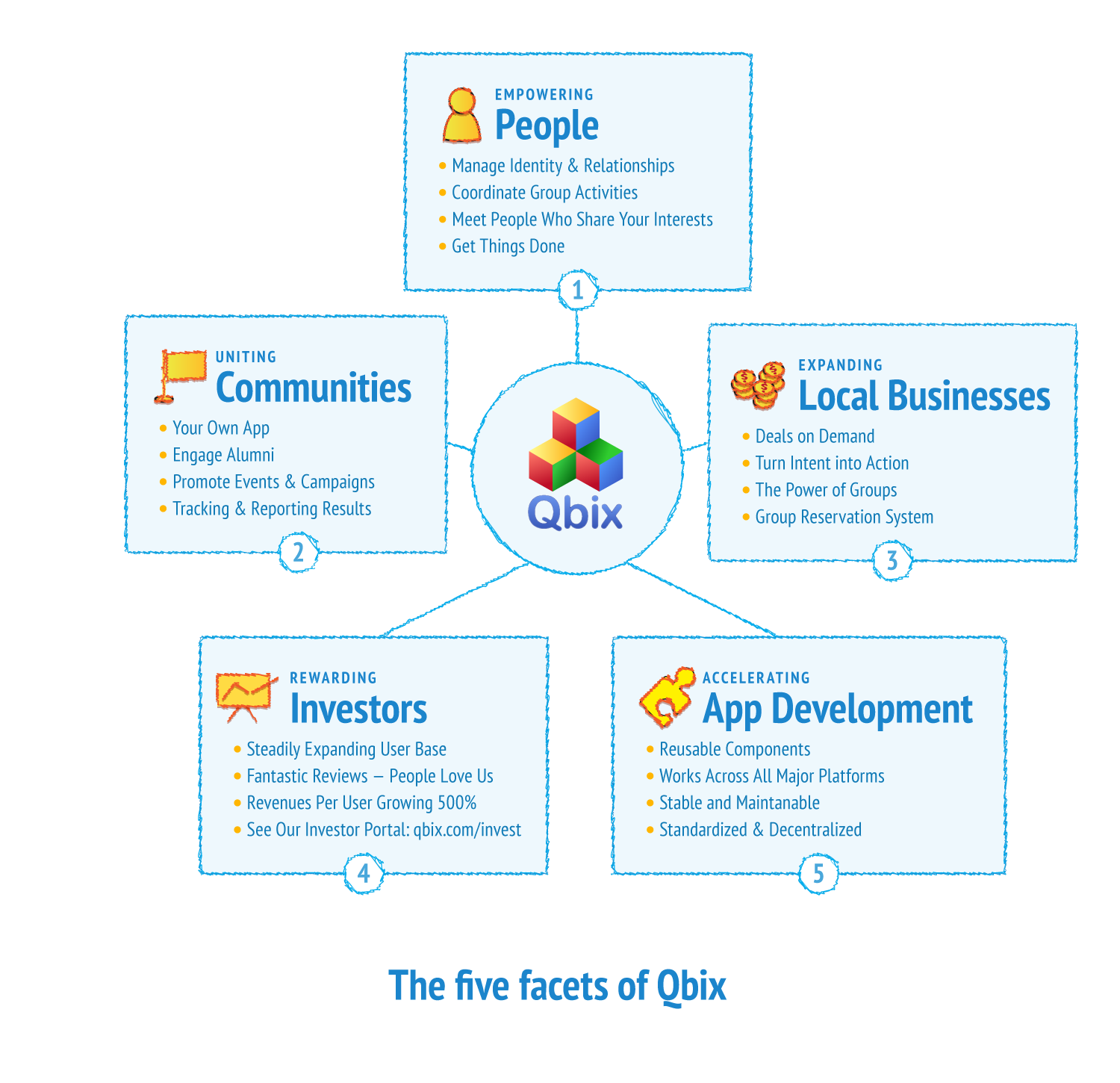 Our company is connecting 5 different facets (see above). We already have the first one – People – in 110 countries around the world. Now we started to build our first apps for communities to give to their members, and I should be able to invite you to some in the next month or two.
The last 12-18 months, I've been working to design a crypto-currency that would support UBI. Something like groupcurrency.org but implemented in practice. Here is the reasoning behind its design, in bullet points:
UBI needs to be on the local level, because the cost of living varies from place to place. In a desert environment, water is more expensive than right next to an aquifer, for instance, yet water is a necessary good. UBI doesn't mean everyone can move to the desert environment.
Communities can already issue their own currencies, like the Bristol Pound. This is called "complementary currencies" – fiat of the larger polity is accepted, but inside the community, the currencies circulate. Due to Gresham's law, people would actually spend them much more readily than fiat. You can also see a transition to internal currencies (backed by fiat reserves) in WeChat/AliPay in China, or how the Millennials venmo each other money.
Communities can be more resilient – e.g. Detroit Bucks can pay an employed plumber to do a job. Even if Detroit is hemmorrhaging dollars, most Destroit Bucks will stay in Detroit so it won't go bankrupt. Same with Greece and the EU, for example. Communities need to be able to have their own fiscal policy.
Money is just another "social app", but for now it's been a dumb one. The value of a currency comes from network effects, just like an app – stores accepting the currency in exchange for all the stuff you need, is similar to all your friends being on facebook. Payments between communities can be done using the interledger protocol.
UBI can be implemented in the community currency without coercive taxation by automatically measuring the local CPI (of food etc) every day, and issuing that amount to everyone in their accounts. UBI comes with "immigration quotas" – the community or its representatives make decisions as to who can move there and start to receive UBI. So the U in UBI does have one condition: "membership" in a community. This is similar to how tribes used to live for centuries, except now they don't need to work.
I believe this will also have a great impact environmentally. By stimulating local economies and issuing UBI to local residents, we counteract the effects of Capitalism that cause people to live further and further away from their jobs in expensive cities like SF, and commute to work and pollute the planet. The phenomenon of commuting to work to sit in a chair is only about 150 years old, and is very wasteful for most jobs.
The UBI will invariably cause the community currencies to inflate, and lose value against the fiat etc. But all the prices will be quoted in the fiat, so this shouldn't lead to confusion. The endless inflation will not cause the same problems as it did in the Weimar Republic, but instead will transparently capture the cost of "how much it costs for everyone to eat", mitigating shortages and fixing them later. Plus, communities can implement taxation to remove money from circulation if they want to disincentivize certain business activity. Or the Federal government can help subsidize the shortages of fiat reserves that some local communities have, the same way they rescued the banks when they overextended themselves.
So far, our talented team at Qbix has been able to put out some impressive apps that are well-received around the world. We built an open source platform that lets communities host their own social network, and for people to manage their own identities and data privately and securely. Hopefully, in the next few months, we will expand our team and bring on board the right partners (from the fields of security, crypto-currency, and economics) who can help us to achieve our larger vision of empowering people and uniting communities.